Just in…….
Cascade Chicken Feed are in! Local and Organic Starter, Pullet, Layer and Scratch. Mention our blog and get 10% off!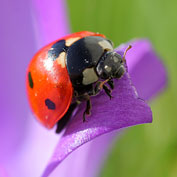 Beneficials have arrived! Green Lacewing eggs, Live Ladybugs and a variety of Nematodes are here.
Also, a bunch of new Garden supplies and DIY equipment is now in stock. Too much to mention here, so come on in.
Lastly, our chickens will start to arrive on the 7th. First up will be Black Australorp. Australorps are the Australian take on the Orpington breed. They are calm and friendly, and excellent layers of light brown eggs. The Australorp's exceptionally soft, shiny black plumage has hints of green and purple in the sunlight. Peaceful and dignified, Australorps are an absolutely delightful bird which we highly recommend to anyone who wants a pet chicken that lays dependably.